Why Employee Engagement Is the Key to Staffing Your Contact Center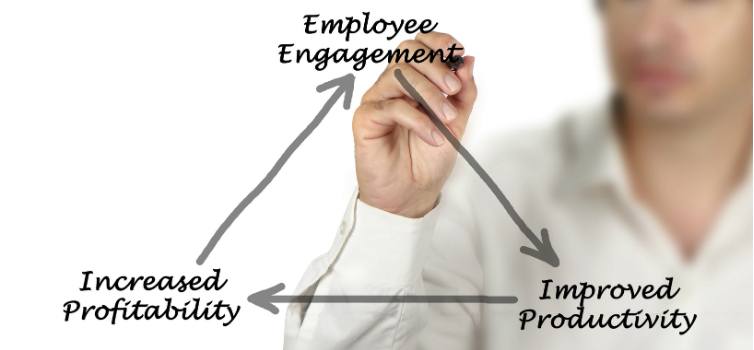 Employee engagement has been a hot topic the past few years and shows no signs of falling out of favor. But what is employee engagement? It's a term that means a lot of things to a lot of people.
David Mizne of 15Five might put it best when he defines employee engagement in this way:
Employee engagement is proactively and passionately adding value while aligning with the company mission. This can be hard to quantify [although not impossible], but an engaged employee wears it on their face and demonstrates it in their work and workplace communication.
What the definition fails to detail are the positive impacts of employee engagement on productivity and profitability. Consider these statistics from the 2016 Gallup "Moneyball for Business" report.
Companies with engaged workforces see 21 percent more profitability than companies with disengaged ones.
Companies with engaged employees see less absenteeism (-41 percent) and turnover (-24 percent in high-turnover organizations and -59 percent in low-turnover ones).
Companies with engaged employees see greater productivity (+17 percent) and sales (+20 percent) than businesses with disengaged employees.
If taken as a composite, teams with the greatest engagement have four times the odds of success (or above average performance) than those with the lowest.
Employee engagement has a solid return on investment in any vertical, including contact center staffing. Here are four specific reasons why employee engagement is critical to success in the call center.
Employee Retention
Employee retention can be a challenge for call centers large and small, but employers can tip the scales in their favor with employee engagement programs. These initiatives focus on employee involvement in the organization, regular feedback and overall well-being. Gallup reports that employees who are both engaged and have high well-being are:
59 percent less likely to look for a job with a different organization in the next 12 months;
18 percent less likely to change employers in a 12-month period; and
45 percent more likely to report high levels of adaptability in the presence of change.
For these employees, it isn't a matter of money—although they do need a good salary and competitive benefits. The money's nice, but the fact that they're important to the organization is even better. Employees who matter stay longer with the organization, increasing retention rates and decreasing the costs of training new hires.
Productivity
Engaged employees also are more productive. They care about getting the job done because the contact center cares about them. According to Dale Carnegie, this attention to their work translates into huge performance gains.
Companies with engaged employees outperform those without by up to 202 percent.
It's a big number. And it's within the realm of possibility for any organization, including the contact center.
While measuring intangibles like engagement seems difficult, modern cloud-based call center solutions are making it possible to measure employee productivity, which can help streamline operations. Knowing which agents are most productive – and when – can help you identify and reward top performers and replicate that success across the team. You can also look for areas of improvement and augment training as needed to help set up your team for success. When employees feel properly trained to perform their jobs – you guessed it – employee engagement soars.
Customer Service
Customer service may be an obvious area of impact, but it's one worth noting. Contact centers are the first line of communication when it comes to customer care, and this service is often a performance metric. Thus, it's important to address the issue and take the action necessary to ensure a positive customer experience.
Companies understand the reality, so they're measuring customer satisfaction and the efforts required to grow it. A CareerBuilder study finds that employers who increase their educational requirements see customer loyalty increase by 25 percent. More positively, many of these same employers are taking on the burden of education, training and certification. Says Rosemary Haefner, chief human resources officer at CareerBuilder:
Continuous training empowers employees. It gives them the confidence that they are up-to-date with new developments in their industry and a have a stronger understanding of the company's future. […] There is no investment that you can make that will do more to improve productivity [and customer loyalty] in your company.
Another reason to implement training to improve engagement and customer satisfaction? Millennials, the up-and-coming generation in the workforce. They gravitate toward organizations that give them tools and resources to grow their personal and professional skills.
Profitability
Employee engagement programs also make good—and proven—business sense. When MIT Sloan Management Review set out to measure the financial benefits of employee engagement, it discovered the following:
Companies with highly engaged employees see the highest level of growth in profits (10 to 15 percent).
Comparatively, companies with low or no engagement saw the lowest levels (0 to 1 percent).
The study included B2B and B2C organizations around the world, with industries ranging from manufacturing to service. Regardless of industry, type of company or company size, employee engagement matters. It leads to exceptional service, which can be critical when competing against companies that offer similar products and/or services.
Employee engagement offers financial returns in terms of costs, too. Gallup reports that disengagement hurts the U.S. in upwards of $450 billion every year. When CareerBuilder asked employers about the negative impacts of bad hires, 41 percent believe the decision has cost them more than $25,000. Twenty-four percent put the number at more than $50,000.
Raise Profits and Productivity with Employee Engagement
Fortunately, disengaged employees aren't an unsolvable mystery. Gallup's employee engagement matrix is of great help and can be used in any working environment, including the contact center. Armed with it, call centers will be able to influence their employees and positively impact customer service, retention, productivity and profits.
Want to learn more about TCN's cloud-based call center solution and its impact on employee engagement? Request a demo.