TCN + Salesforce
TCN Connector for Salesforce
With the TCN Connector, you get a secure and reliable platform built to handle all your customer communication needs — right within Salesforce. This integration boosts agent productivity while personalizing customer experiences.
Request a Demo
The path to better customer satisfaction and agent engagement
Engaging with customers within Salesforce is easy while keeping your sales team focused and productive.
Integrated communication
Quickly deploy and manage your contact center solution. With a single pane for communication, agents and customers are easily connected.
Easy to use interface
A simple user interface makes it easy to use without requiring agent training.
Complete visibility
Give agents the ability to access customer information they need, when they need it, all without leaving Salesforce.
One platform for a seamless experience
With TCN, your agents are able to remain in Salesforce without needing to use multiple applications to contact a customer. The customer information your agents need is presented on inbound calls to keep your agents informed and help them provide a positive customer experience.
Power dialing has a new meaning
TCN's Power Dialer for Salesforce seamlessly keeps your outbound contact center operations running smoothly, no matter the size of your organization. TCN is the most effective dialer available for Salesforce — making contacting, selling and prospecting a breeze.
Benefits of TCN's Power Dialer
Have more meaningful conversations
Follow up faster on leads and prospects
A native integration to Salesforce
Features you get with TCN + Salesforce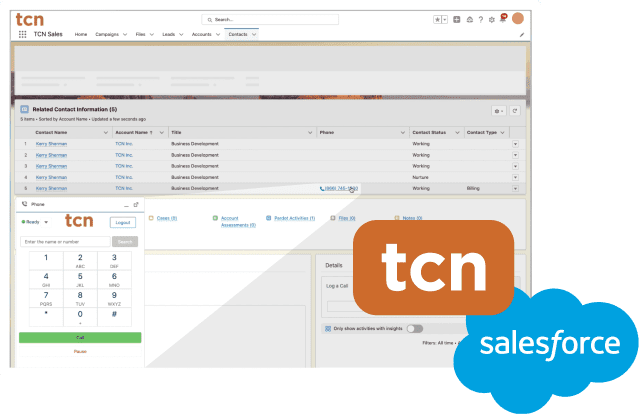 Click-to-dial

With one click, agents can quickly initiate outbound phone calls directly from Salesforce using TCN's call center software, Operator. Click-to-dial improves agent productivity and engagement.
Inbound calls & IVR

As inbound calls are received and routed, agents are presented immediately with the Salesforce record related to the customer. The conversation context is never lost.
Outbound dialing

Outbound dialing and campaigns can bring effective, proactive communication to your call center. Whether selling, collecting survey data, or simply calling to collect a debt, you'll appreciate TCN's seamless campaign management in Salesforce.
Dialer campaigns

Set and schedule repeatable campaigns using templates for inbound, outbound and blended call and omnichannel communications using Leads, Contacts, Cases or custom objects.
Call record activities and insights
TCN's Call Record custom object allows for operational flexibility using custom objects as well standard objects within Salesforce. Detailed records on agent disposition, call recordings and call activity history are stored in TCN's Call Record custom object. It can also be stored in Salesforce in the contact record. The two-way sync between TCN and Salesforce makes reporting on any call record possible.
Discover related solutions
Perfect your Salesforce CRM and start making every customer interaction easier with TCN.
Request a Demo