The Coolest Office Spaces on Earth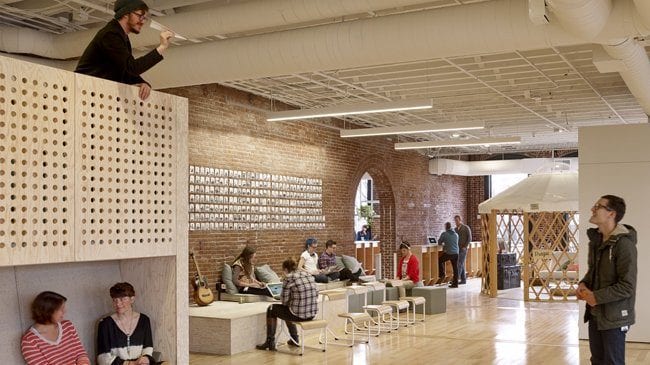 While the words 'cool' and 'office space' haven't always seemed to go together, a bunch of businesses are beginning to prove it can be otherwise.
Companies everywhere are beginning to change the way office spaces are designed in an effort to get people working together collaboratively to develop innovative ideas while remedying the tedium and sedentary discomfort often associated with working in an office environment.
Here are a few companies (even a call center in Portland!) that are raising the bar as far as office spaces go.
The Coolest Office Spaces Out There
1. Airbnb in Portland, Oregon
Airbnb is not your typical call center by any means. Decorated with beautiful exposed bricks and light wood accents, Airbnb represents the type of job you can look forward to coming to every morning.
Comfortable, padded nooks and crannies allow employees to relax during break or on lunch while shared desks allow workers some much needed freedom from assigned seating. Employees at Airbnb are also given very flexible work schedules and can choose when to put in hours or take a little time off relaxing on a nearby couch.
2. Coca-Cola Office in London
Covering over 66,000 square feet, the Coca Cola office in London is an inspiring example of what an office space can be. Instead of assigning work spaces for everyone, "hot" desks allow workers to find a place for the day that's best for them.
A cafe and terrace add further appeal to this office environment. LED lighting can be found throughout the building and an installation art piece by British artist Stuart Haygarth greets workers and visitors in the lobby.
3. WeWork in Washington, D.C.
What was once a Wonder Bread Factory is now a 33,000 square foot, fully renovated office area. By designing their own wallpaper and window decals, along with customized seating, WeWork has managed to become one of the coolest office spaces on Earth. The break room is centered around a gaming console that also serves as a table for employees to relax and share ideas.
Office Trends You Can Implement
Those are just three examples of companies taking the time and resources to invest in a workplace environment that inspires the people who spend their days there.
Now if you don't have the budget to re-vamp the whole office, here are some recent trends in office space development that can help to improve the look and feel of your workplace:
Add a Splash of Color
Offices around the world have begun experimenting with the use of bright and engaging color schemes to give their workplace a bit of personality.
Invest in Ergonomics
Since office workers are expected to sit in one position for hours at a time, while answering phones and typing at the computer, ergonomics has become a necessary consideration in office space design. The conventional keyboard, mouse pad, chair and desk are all being re-designed with more ergonomic options — even stand-up desks are gaining popularity. By making employees more comfortable in the office, employers create a happier, healthier, and more efficient workplace.
Carve out Open Spaces
The first image many people have when they hear the words "office space" is row after row of closed-off cubicles. However, many companies are providing open spaces for employees to take breaks, relax and communicate with one another throughout the day which is proving to have a positive impact on how a business functions.
For any business interested in renovating their office space to improve the comfort, happiness and productivity of employees, looking at these examples of the world's coolest offices is an excellent place to start. Sometimes even the smallest changes in the atmosphere of a workplace environment can make all the difference.