Why Call Center Analytics are Important for Contact Centers

Call center analytics are an essential part of any contact center. These analytics can directly lead to a business's clientele growth, strategic planning, and contact center performance. But what are call center analytics, and what can they do for you and your contact center?
What are call center analytics?
Call center analytics includes the process of collecting, tracking and analyzing contact center data to identify and understand critical insights about your organization, its performance and its consumers. Many metrics call center analytics can measure include:

Customer satisfaction
Retention
Revenue
Handle time
Call volume
Hold time
Agent performance
With insights from your analytics, you can better understand your agents and how equipped they are to serve the customers or identify areas that need more training and education. These insights can lead to improved customer support and increased satisfaction through professional reports and interactive dashboards.
Tracking call center analytics is much more than simply collecting and crunching numbers. It also accounts for the human element that influences the customers' experiences and how calls are handled. Consumer experiences can be analyzed using tools such as Voice Analytics to understand consumer sentiment and determine what controllable variables lead to satisfied consumers. Utilizing call center analytics also helps you learn more about your customers, such as their age, gender, nationality, and other similar details that can help you provide a more personalized customer service experience.
Using the insights gained through your call center analytics, you can measurably improve contact center performance and create actionable plans to improve customer experiences through better customer service. You can also identify the most common issues with your products or services and make viable data-centered plans to improve them.
These insights and reports can be crucial in helping management make long-term plans and operational decisions. They can also help agents make immediate changes within their calls to provide better customer support and improve individual professional growth.
Which analytics are relevant to my call center?
Common types of analytics include:

Omnichannel analytics
Predictive analytics
Voice analytics
Customer analytics
IVR analytics
Agent performance (Call length, Hold Time, Abandoned Call Rate, etc.)
With so many different types of analytics, you might wonder which ones you actually need to keep track of for your contact center. The answer to this question is different for every call center, but it is essential to realize that it will also likely change with time as your call center grows and improves.
Every call center should have agent performance and predictive analytics. These will allow you to better manage and train your agents while giving you the best insight into the future of your call center and the industry.
As consumer demands change and your call center adapts, you will most likely need to track and analyze Omnichannel and IVR analytics. With the increase in channels that customers prefer to communicate through and the growing need for more automated systems, these analytics will provide your call center with the data you need to ensure your consumers get the best service possible.
Voice and customer analytics are excellent sources for additional insights into exactly what your consumers want and how they are feeling. With them, you can determine consumer satisfaction, sentiment, needs, habits, and trends that can help in marketing and sales initiatives or future employee training programs.
Boosting Agent and Call Center Efficiency with Real-Time Analytics
One of the most significant benefits of analytics is the ability to improve your operations. When you have data on your call center's strengths and weaknesses, you can make adjustments as needed. Real-time analytics amplifies this ability and extends it to individual agents. With live data being gathered and analyzed instantly, agents can view their performance and get feedback about what is going well and what they can improve upon in each call. This individualized and immediate insight offers your call center's agents the chance to improve not only from day to day or week to week but from call to call.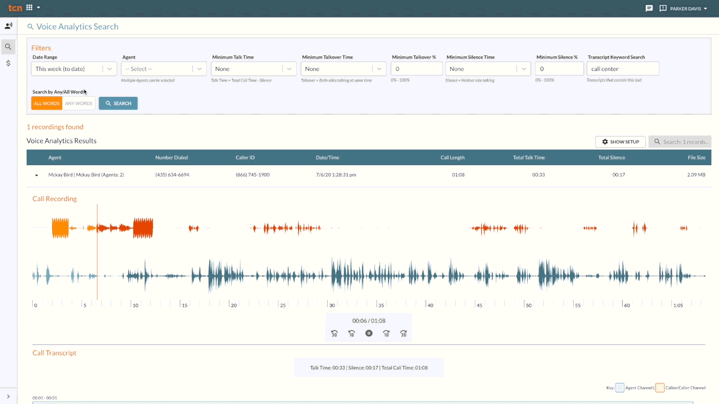 Breaking Down the Data
It can be overwhelming trying to understand and break down the data with all of the different analytics and metrics to consider. Some methods of analyzing the data include manually:
Sorting through and reading call detail records (lists all incoming and outgoing calls and information)
Tracking call center KPIs
Studying customer preferences
Checking for quality assurance
Collecting customer feedback through surveys
These methods often take a manager's valuable time away from managing agents and overseeing call center operations. An integrated Business Intelligence (BI) solution can simplify all of these processes. Business Intelligence automates the data collection and analysis of whichever metrics you choose for your call center. BI can help your call center track the most important things to you while optimizing managers' time and improving call center performance.
Customizable Reporting with Detailed Insights
As you study the reports and improve on your weaknesses, you may want to change your dashboard and the types of reports you see every day. With Business Intelligence, you can customize which data reports you receive to help you focus your efforts on the areas most important to your call center. Whether it is customer sentiment or agent performance, reporting can give you the insights you need when you need them.
Analyzing Call Center Data Through the TCN Lens
TCN's reporting and analytics solutions come complete with all the tools necessary to make the crucial decisions for your business. TCN offers integrated Voice Analytics and predictive insights, along with Business Intelligence, to simplify the analysis process. With TCN's call center analytics, managers can gain insights into the minute details of their call centers, including their omnichannel systems, agent performance, automated systems, and consumer experiences. Request a demo to learn more about TCN's call center software and how it can bring your analytics and your call center to the next level.