The Pros and Cons of Having A Virtual Call Center

Digital communications have changed drastically over the past few decades, and it has shaped how businesses communicate. With all of the different technological advances and features that simplify customer care and the overall call center experience, virtual call centers have become more popular than ever.
Although businesses that are already using a virtual call center will tell you that it is the only way to go, many are still in love with the technology that has brought them much success for decades and remain hesitant to make the switch. Virtual call centers have a lot to offer and have been proven to be beneficial. However, for those still on the fence about switching over, let's take a look at some of the pros and cons of a virtual call center.
Pros of a Virtual Call Center:

1. Availability
One of the most beneficial and attractive features of a virtual call center is its ability to provide a nationwide network of agents available around the clock and even accommodate overflow demand or emergency staffing. Using tools like Workforce Management helps keep things organized with the many different schedules and time zones of remote agents. With this feature, your call center can prepare for predicted busy call times and staff accordingly — making sure your customers get the service they need when they need it.
2. Customer Satisfaction
Customer satisfaction is as important as anything when it comes to a virtual call center. With virtual call centers, agents have everything they need to reach high service levels in helping customers meet their needs. With industry standards such as speed, knowledgeability among agents, and friendliness — to name a few — virtual call centers don't skip a beat when performing and satisfying customers. Businesses can track customer patterns by making use of advanced data and analytics. By doing this, agent performance can be optimized to satisfy the customer even more.
3. Productivity
Virtual call center services help you find the best way to increase agent productivity. With agents working remotely more now than ever, the question is often asked, "Will there be a drop in employee productivity?" Although this is a valid question, recent studies have shown that although there can be more distractions at home, employees are just as productive, if not more productive, working remotely than in an office.
Cons of a Virtual Call Center: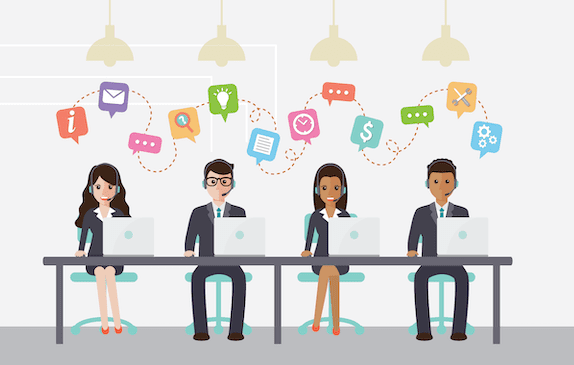 1. Loss of Control
One of the biggest reasons companies and businesses are hesitant to move forward with a virtual call center is because they feel like they will lose complete control over communications taking place on behalf of their company. This is a valid concern, especially for those who have been in complete control of all communications from day one. TCN is focused on making sure the transition to virtual is seamless and easy by making sure you retain as much control over your customer communications as you want. Thanks to data and analytic tracking tools, you can rest easy knowing that your agents are communicating the way you want them to.
2. Potential Connection or Technological Issues
In a virtual call center, each agent has to rely on their own power source and connection to complete their job at a high level of efficiency. There are always potential power outages or technological failures that could happen and could be an issue for some agents who may not be familiar with fixing these problems that arise. Usually, when something like this happens in an on-premise environment, IT helps resolve the issue right away. With the rise in remote employees, some companies have been playing a larger role in helping provide employees with what they need to combat some of these potential issues.
3. Less Communication Between Employees
Teamwork and collaboration are crucial to a company's success. With agents working miles apart, it makes it even more difficult for employees to communicate. However, thanks to applications and software features such as Room 303, agents can remain in communication with one another.
In this new virtual day and age, technology is always changing and improving. At this rate, it's important to always keep your call center up-to-date with trends to keep up with the industry. Find out how TCN can help keep your virtual call center at the top, request a demo today.