Decrypt the Data With Business Intelligence

It takes a lot to run a contact center. You need good management, hard workers, and software that meets and exceeds your needs to be successful. These tools can lead to growth and greater opportunities. One of the most critical tools in a contact center is Business Intelligence.
What is Business Intelligence?
Business Intelligence (BI) is a part of call center analytics that gathers, organizes, and analyzes data. With Business Intelligence, managers no longer have to spend countless hours a week manually collecting data into a spreadsheet and even longer trying to glean pertinent information. After every call, this process is done automatically to provide consistent and up-to-date information. This data is essential to making intelligent and informed business decisions.
What kind of data is collected?
BI gathers data about your contact center's overall performance and individual agents' productivity based on preset rules determined by managers. The tool is capable of recognizing a variety of metrics, including:
Call campaign costs
Problematic trends and issues
Volume trends
Compliance flags
Hold times
TCN offers a more advanced business intelligence solution that provides even greater insights into contact center data. TCN's Business Intelligence Professional solution can also:
Layer metrics to discover outcome influencers
Track and validate compliance status
Predict costs and staffing
Discover different agent talents with call types
These are just a few of the metrics that you can gain insight into with Business Intelligence, and those insights can make the difference between a failed and a successful call center. A BI tool can give suggestions to help you decide which metrics your contact center needs to track and what to do with the information you gather. You can also update metrics instantly to keep your data relevant and easily digestible if you find that your current metrics aren't providing what you need.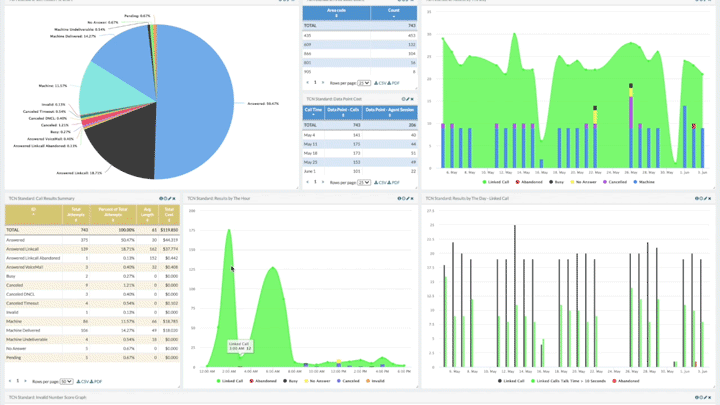 What can Business Intelligence do for me?
The information gathered through this feature has many benefits for your call center. It can lead to discovering star agents, faulty practices, compliance risks, and service issues. It can also show where your business stands as a whole with deliverables, customer satisfaction, and call rates.
This vital data can be used to determine which topics need to be emphasized or included in future training, which agents can be trusted with high-priority contacts, and what your business needs to do to keep up with current demands. In short, these are insights that can save your contact center.
The TCN Difference
TCN's Business Intelligence is designed to simplify any industry's data collection and analysis process. With a dynamic user interface, TCN's BI clearly displays collected data in an easy to share and understand format. Managers can track individual agents' performance in real-time while viewing availability and call/hold times. This system is ready as soon as the tool is activated on your dashboard; you can start tracking and reporting immediately.
The purpose of Business Intelligence is to reduce the number of work managers have to do to find potential problems and execute strategies for improvement. TCN's BI tool has proven itself to be an effective tool to improve KPIs and increase productivity through its integration with numerous call center systems. Take a look at how a world top ten BPO used TCN's BI to increase productivity 207%.
TCN's Operator platform allows easy and constant access with Business Intelligence built directly into the system. Make sure that you are making the right decisions for your contact center with a robust Business Intelligence solution. Request a demo to learn more about BI and what it can do for your call center.