Analytics: The Driving Force Behind Efficient Call Center Software

The modern call center is driven by data. A contact center's data says a lot about the organization such as how it's performing and whether or not it's reaching goals. Reporting and analytics are more important than ever when it comes to keeping up with competitors, which is why you need the tools that give you accurate real-time information.
Take control of your call center metrics and make the most of your organization's data. You work hard to get the data, now let the analytics do some of the work. Utilizing your reporting can help improve efficiency and performance.
TCN helps you gather data through its Essential Reporting and Business Intelligence features. From there, you can easily navigate and understand your call center information with the help of TCN Speech Analytics. Let's take a closer look at what reporting and analytics can do for you.
Stay In-The-Know About Overall Performance
With TCN Essential Reporting, you can automate critical metric tracking and generate reports. Having these details on-demand and easily accessible makes it possible for you to gain insights into your organization's performance. Taking a closer look at your call center analytics also helps with monitoring call campaign costs in real-time and measuring the return on campaigns. Doing so, allows you to always stay up-to-date on how a campaign is performing and if adjustments are needed.
Give Each Agent the Attention They Deserve
Your data provides insights that allow you to discover more about individual agents and understand them on a more personal level. Seeing agent analytics such as call times, hold times, and compliance checks allows you to track weak performers and discover different talents in call types. Analyzing agent data can lead to adjusting training methods and improving overall performance.
Take Your Call Center to the Next Level
Your contact center can reach new heights by taking their data one step further with TCN Business Intelligence (BI) reporting. Create custom dashboards and automated reporting to gain the most beneficial insights possible. Check out what a customer had to say about using Business Intelligence:
"Nobody wants to sit and look at 5 or 6 different spreadsheets throughout the day. With the ease of use and being able to provide the information that you want, [TCN's BI Suite] has made a huge difference in how I look at the day to day processes. It changes how I view everything. It has cut my daily workload in half!"
Steve Larsen, Advance Financial
Once you have your reporting and data gathered and organized, are you looking for a way to closely look at call interactions? Are you wondering if your customers are happy?
TCN Speech Analytics allows you to gain insights into your customer's interactions and access full-text transcriptions. Using its strong search and discovery tools you can search for keywords, quickly analyze conversations, and identify problems or compliance risks.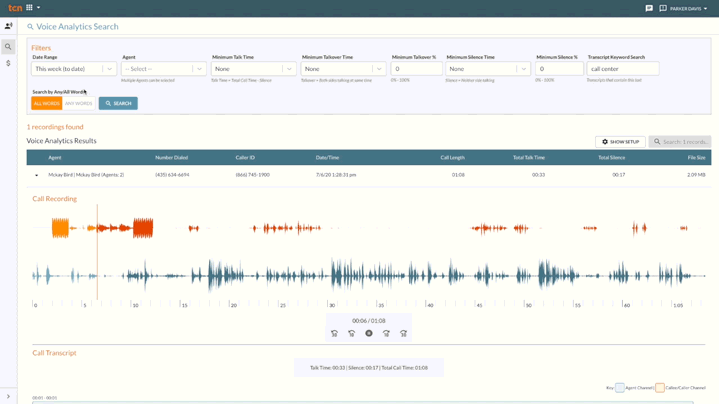 Call center reporting and analytics should not be viewed as a hassle to obtain and use, they should be exactly the opposite. Your data should help take the weight off your shoulders and enable you to do more and improve operations. That's exactly why TCN provides solutions to help you get the most out of your data.
To learn more about TCN's analytics and reporting features, request a demo today.