SMS Texting, an Essential Channel of Communication

The purpose of every call center is to communicate effectively with consumers to achieve the organization's goals, whether that be providing the best customer care, increasing collections or simply notifying the consumer. Without effective communication, relationships struggle and businesses fail. This is why providers must offer basic communication solutions like SMS text messaging.
Understanding SMS Communication
SMS text messaging is a fast and easy way for customers and businesses to communicate. It allows for the personalization of messages through a platform accessible to most customers in a format that they are comfortable with. It also allows customers to text on their own terms, improving customer experiences overall. Providers can also establish customized one-touch responses that are secure and easy for customers to navigate.
In TCN's 2023 Consumer Survey, when asked what their preferred method of contacting a company's customer service department is, 29% of respondents chose text over other methods.
Benefits of Text Messaging in Call Centers
Offering SMS doesn't just benefit a call center's customers; it also improves call center operations through:
Improved Customer Engagement
Instant and convenient communication
Higher open and response rates compared to other channels
Ability to reach customers on their preferred device
Enhanced Efficiency and Productivity
Reduced call volumes and wait times
Simultaneous handling of multiple conversations
Automated responses and personalized messaging
Cost Savings
Lower costs compared to voice calls
Increased agent productivity and reduced staffing requirements
Reduced call durations and operational expenses
Applications of SMS Text Messaging for Call Centers
SMS texting has applications for any organization, from healthcare providers to collections agencies to any customer care facility. Call centers can send appointment reminders and confirmations to help reduce no-shows and appointment cancellations or send automated reminders and confirmations. They can also send payment requests with secure links to increase collections and keep customer information safe.
The ability to quickly and easily connect with customers is often undervalued, and the support that is available through text is commonly overlooked. Through SMS, customers can access text-based support for quick issue resolutions and call centers can conduct surveys and collect feedback full of valuable insights with higher response rates.
Implementing Compliant SMS Into Your Organization
TCN has an integrated SMS solution within its platform that makes jumpstarting text initiatives seamless from the start. The best part? These text initiatives won't have to be bogged down with worries about the ever-changing compliance requirements for SMS communication.
Staying compliant is not an optional endeavor for contact centers. With hefty fines for failing to follow requirements, placing regulation-approved communication at the top of the priority list is a must. The good news is that with TCN's fully equipped compliance suite that can track consent, call centers can avoid penalties for non-compliance with peace of mind, rather than stress.
What the Experts are Saying
With recent changes in the debt collection industry concerning the ability to communicate with consumers via SMS, many agencies have felt unsure whether or not they were able to effectively and compliantly make collections using SMS. In response, TCN stepped up to the plate, offering call centers a pain-free process for compliant SMS communication.
In TCN's recent webinar, Open the Door to SMS Communication for Debt Collection, legal and industry experts discussed the legal landscape concerning SMS communication and how debt collectors can easily contact via text messaging. TCN product experts also demonstrated how to easily register numbers and utilize consent tracking with TCN. Watch the webinar to learn more about amplifying collections by utilizing SMS.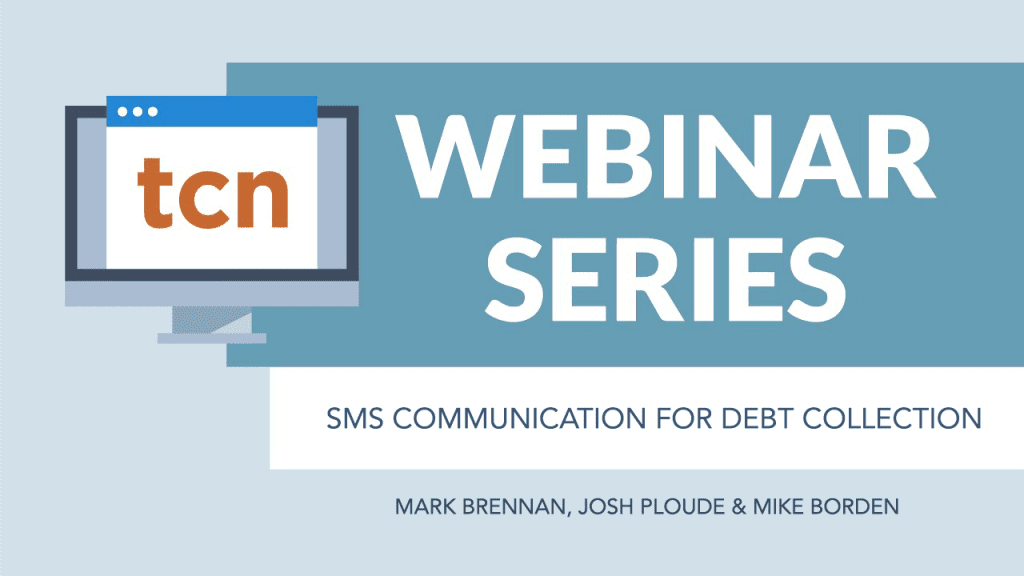 To learn more about how to contact consumers while staying efficient and compliant, request a demo to have a chat with a TCN product expert.