Introducing Our Brand New Call Center Glossary Page And Other Exciting Website Features

Have you ever come across or heard someone say a word or phrase related to call center software and weren't 100% sure what it meant? If you answered yes, you are not alone as the industry is always coming out with new features and services that might have words and terms that you are unfamiliar with or you've never heard before. The days of turning to search engines to find out what specific words/terms mean are over. Look no further; TCN has your back!
Here at TCN, we are dedicated to ensuring that you are always in the know and not left in the dark with these terms and definitions. With our brand new Call Center Software Glossary, you no longer need to wonder what specific terms or products mean.
As a frequently updated resource, you can find definitions to call center-related topics and the most up-to-date industry terms. With all this information at your fingertips, you can learn more about particular products and how they can benefit you and your business.
With so much on your plate and everyday to-do's, searching high and low for definitions or information about products is the last thing you should have to worry about. With TCN's glossary, you now have a guide to help you better understand the entire call center industry and, more specifically, software features and benefits that support your call center to be more successful.
The Call Center Glossary is easily accessible with simple navigation — making it easy to skip down to find the word you're looking for. Your learning and understanding don't have to end there, though. Each definition and term is linked to a page that dives into more detail to help you explore more about that topic. Be on the lookout for updates to the glossary as terms and definitions are frequently updated, or new ones become available.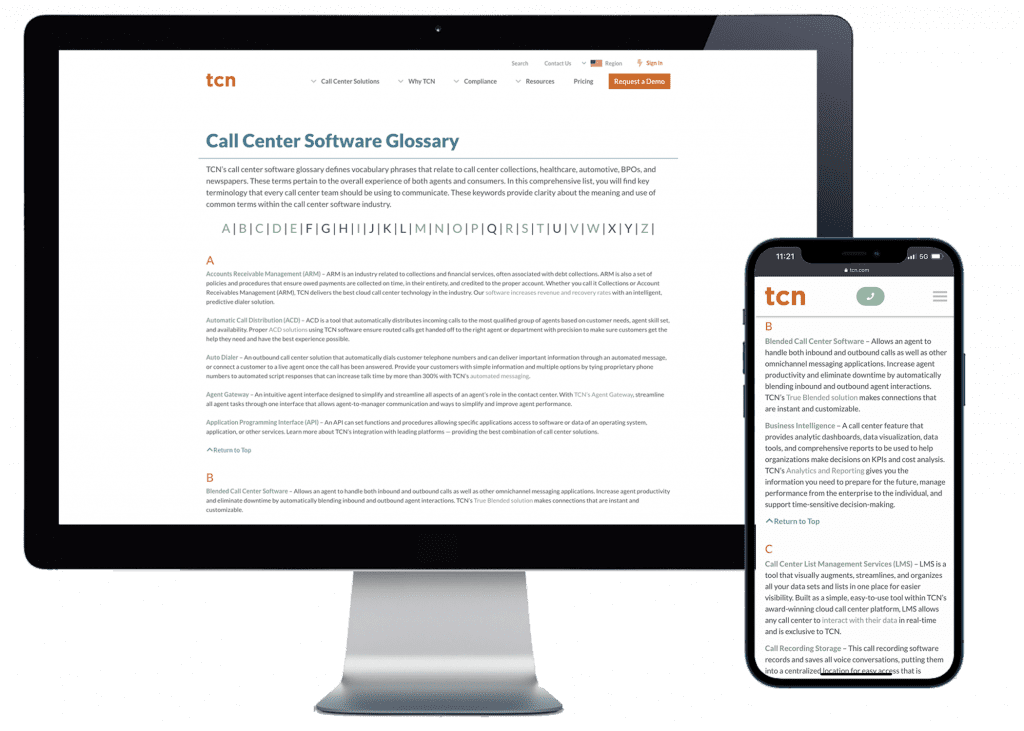 Along with TCN's brand new Call Center Glossary, stay tuned for more exciting resources added to the TCN website for your benefit. In the upcoming months, we will have a newly designed Resource Center that will allow you to filter through all the content on our website quickly. Here you will find all of TCN's videos, blogs, webinar replays, case studies, eBooks, guides, and more!
This new and improved resource center has everything you could ever hope for, complete with intuitive navigation. We will soon release a new resource, 'Complete Guide to Managing Call Center Agents,' that is 100% designed to help managers oversee and train call center agents — making sure your call center is as proficient and successful as possible.
TCN is pleased to announce these new changes and resources that will support you and your call center as you navigate the industry and work towards achieving your goals.
Stay tuned for updates on all of the latest and greatest features coming to the website soon! Request a demo to learn more about how TCN can help your call center.