Skip the small talk with one-touch, responsive texts.
Staying in touch with your customers is now easier than ever with Agent SMS — a new texting feature by TCN. With Agent SMS powering your contact center's mobile channel, your agents can quickly respond to customers' needs, confirm appointments and even alert individuals of emergencies. More messages received equals increased engagement, leads, commitment to pay, and business — the applications are endless.
Texting Applications
Overdue Payment Reminders
General Notifications and Reminders
Marketing Promotions
Emergency Alerts
Appointment Confirmations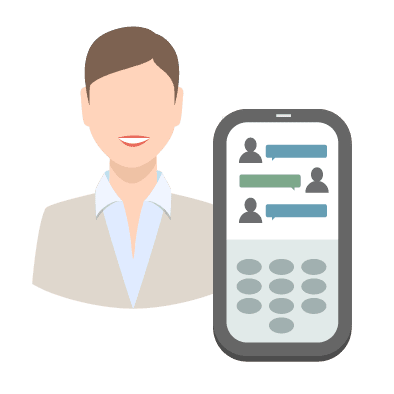 Operational and Contact Center Benefits
Business Intelligence (BI) – TCN's BI gives you insights to campaign metrics, including SMS efforts, to help you manage performance, and optimize or compare your campaigns.
No Send Limits – Our platform is scalable to hundreds of thousands of messages. Only pay for what you use.
SMS Responses – Issues a call back number for each SMS message sent, allowing the recipient to be directly connected to a contact center agent via phone call.
SMS Commands – Equipped with the standard command codes (Stop, Yes, No, Confirm) for immediate responses to upcoming appointments and subscriptions.
List Building – Scrub cell phone data to repurpose and build future SMS campaigns.
International Capabilities – Text international phone numbers.
Instant Callback Numbers – Can be added to the text message template, giving customers the option to respond immediately with a text or a call.
Interested in incorporating a voice and text strategy to your call center? Learn more about our Inbound and Outbound software to see if TCN's cloud-based call center platform is right for you.
Request a Demo: Click or call today and let TCN help transform your contact center.